High-Tech – Asset Management Software
"Let's move towards the right track."
Security & Trustworthiness – Asset Life Cycle Evaluation – Multi-Currency Facility -Real-Time Tracking – Maintenance & Insurance
In the new era of hasty and efficient solutions, multi-tasking is the way to the future. An idyllic way of multi-tasking is through perfect and effective Asset Management Software. So, for all your asset management needs, look no further. We at ICIGAI, presenting you high-tech – your one-stop Asset Management Software.
We utilize our cross-industry expertise and experience to build up and optimize master data. Our best-in-class software enables tracking of all assets that a company possesses. Right from procurement to disposal to asset life-cycle and depreciation analysis, ICIGAI will put you right on track! A class-leading Online Asset Management Software in UAE covers all areas of your business.
With our Best Asset Management Software in Dubai, you can manage assets effectively and get real-time tracking solutions. Meanwhile, you can get both security & reliability and easily import and export data with minimal effort. Generate quick and comprehensive reports with our state-of-the-art Asset Management Software in Egypt and put your business at par with the global market standards.
Look After Your Critical Asset To Keep Your Business Running
Manage the complete asset life-cycle, automate preventive maintenance tasks and do the proper maintenance at the right time – with our world-leading CMMS Software Solutions – no more, no less!
Our Computerized Maintenance Management System (CMMS), referred to as Asset Management Software which designed to simplify your maintenance management and optimize the entire process. The core functionality of our CMMS Software Solutions in India is its database that organizes information about assets, manages equipment, materials, and other resources.
On the other hand, we can handle operational challenges in several ways and offer cloud-based CMMS Solutions to provide you unique insights and competitive advantage.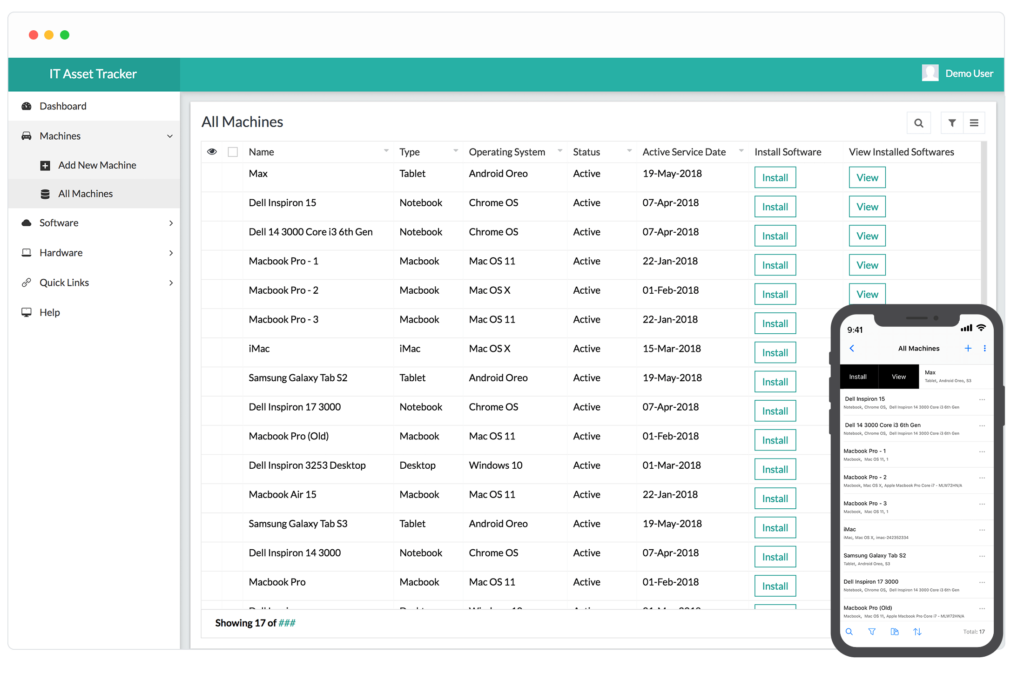 How You Get Enterprise-Oriented Platform With Our Asset Management System?
Our double-barreled goal is to increase value while mitigating risk and assist you in developing, operating, maintaining, and cost-effectively selling assets.
Easily keep a unified record of all assets & track maintenance activities with cloud-based, multi-site solutions, and harness the power of digital transformation.
Advance Maintenance Management System To Make Your Teams More Productive
 With our CMMS Software Solutions, you get:
Why ICIGAI For Asset Management Software?
We rely on that by getting to know your needs well; we'll be in a better position to help you. With our professional experts, you will find innovative Asset Management Software Solutions in Canada that are clear and actionable, driven by industry-specialized teams.
We provide award-winning IT Asset Tracking and Management Software with the most advanced and flexible system to meet your IT needs. Get ultimate solutions for preventive maintenance, work order management, vendor management, equipment maintenance, and inventory control on the go.
We built Best Payroll Software Solutions to achieve critical goals, including:
Let's boost your asset reliability and avoid unscheduled downtime!
Our seamless experience expresses the values that drive a collaborative and inclusive system and defines how we do business!
Helping You Is Our Passion
We Are Trusted By The Best
No need to spend too much time tracking assets! Get our asset tracking software to track & maintain your equipment from anywhere, at any time! We provide reliable services in UAE, Egypt, India, Brazil, United Kingdom, and Canada.
Your time is precious for us! Let's address your IT Asset Management issues quickly by getting flexible solutions. If you want to get a demo and trial of our software, get in touch with our delightful ICIGAI experts and fix all issues efficiently.