Exclusive Benefits of Migrating From QuickBooks to Zoho Books
There is complete turmoil among QuickBooks users once they find out about the discontinuation of their offerings in India. Some seem confused, others worried and many perplexed in search of a better workaround. Recognized as one of the leading business and financial management software for small businesses, QuickBooks will be shut down in India after April 30, 2023. The news came unexpectedly and users have already started looking for a QuickBooks replacement.
Zoho is a powerful, award-winning cloud service provider for all your business needs. The trusted technology company includes an extensive list of over forty software products and web applications, including invoicing applications, project management, spreadsheets, databases, and more. Zoho offers end-to-end customer management and first-class services to its users. It is a complete solution for several products with dedicated functions that adapt to the needs of your business process.
There is always the best accounting software to look for and that is Zoho Books from the Zoho suite. In this blog, we try to assure you that Zoho Books can be the best QuickBooks alternative.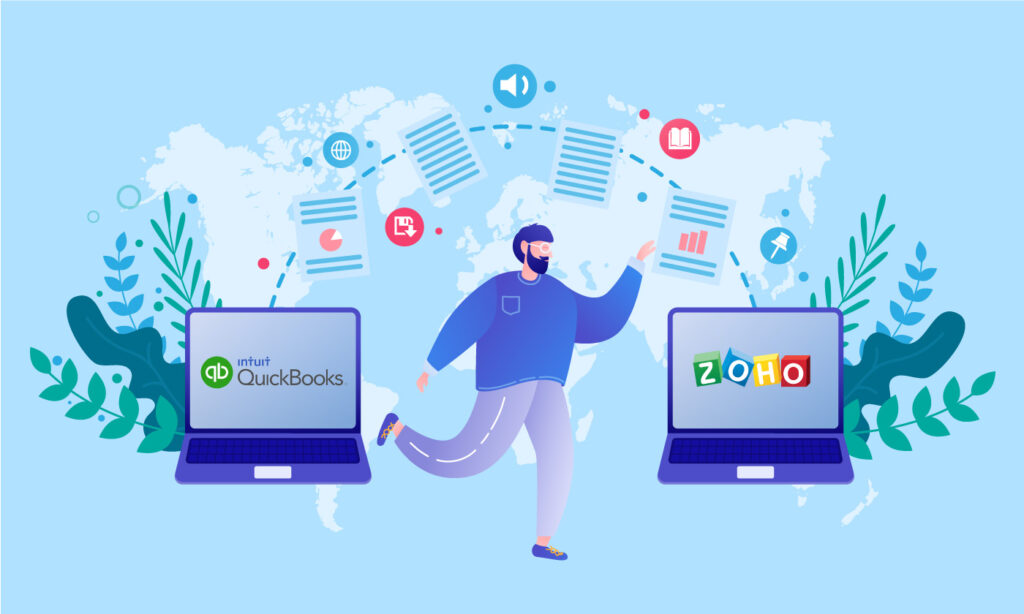 Zoho Books - Best Accounting Solution for Small Indian Businesses
What does it take to be the best business software solution in India? First, it must have the ability to connect with small and medium business customers, and second, it must be affordable. Zoho is an Indian company that provides affordable business software solutions across the world. Zoho's products are invaluable to many micro and small business sectors in India as well as businesses around the world.
Zoho Books is very reliable and well suited for small and micro businesses. It enables integrations with business-related software and keeps up with emerging cloud-based solutions. Zoho Books is also rated and supported by its innovative app integrations.
Zoho is the most trusted and leading accounting software in India. With QuickBooks shutting down in India, most businesses are hoping to switch from QuickBooks to Zoho Books. Zoho has been in the market for a decade with several useful business software tools. Zoho offers a set of useful tools in a single package called Zoho One, similar to Google. Zoho CRM, Zoho People, Zoho SalesIQ, Zoho Projects, etc. are some of its business tools. Each of these tools is either free with the Zoho package or affordable to purchase individually depending on the needs of each business.
As an authorized partner of Zoho in India, ICIGAI supports this transition from QuickBooks to Zoho Books. We assist you in assessing your business before migrating and implementing Zoho Books. We also help you with your replacement integrations with QuickBooks.
Advantages of a shift from QuickBooks to Zoho Books
Zoho is a trusted financial advisor with experts ready to provide accounting and bookkeeping advice. The financial advice they provide gives immense insight into the financial health of your business.
Zoho Books comes with the penultimate GST compliance, from audit to GST filing, which can be done through one software. With the closure of QuickBooks in India, users want to switch to Zoho Books because it is more than accounting software, it includes a full suite of business solutions needed to scale your business.
Zoho Books is much cheaper than Quickbooks with plenty of offers and discounts to expect.
Migration of QuickBooks to Zoho Books through ICIGAI
Migrating from any other accounting software to Zoho Books is quite simple. Through quick consultation, implementation and ongoing support. Zoho Books is part of the Zoho One suite which adds value by complementing many other supporting software and features. Since triggering the shutdown of QuickBooks, ICIGAI quickly helps to archive QuickBooks and launch data with Zoho Books.
ICIGAI is a Zoho Preferred Consulting and Implementation Partner that you can find for Zoho. We are known for helping small and medium-sized businesses assess their progress, we also recommend suitable software from our program group. Contact us to learn more about Zoho Books and the offers you can take advantage of right now for your business.