Introducing Zoho Directory: The workforce identity and access management solution built for cloud businesses
Companies are working on apps.
Every day, people around the world log into apps for every job. That's right, the apps are easy to use, update and deploy and provide a significant improvement in workforce productivity.
However, along with productivity improvements come challenges for businesses due to the increasing proliferation of applications.
Can we securely authenticate our employees to access apps and devices?
Can we customize the right apps for the desired users without hassle?
Can we have strong security controls in place to protect the organization from the growing threat of hacking?
Do we have an end-to-end system that securely manages the interactions between applications, devices, and identities?
To answer these burning questions, we created Zoho Directory, a workforce identity and access management solution designed for cloud businesses.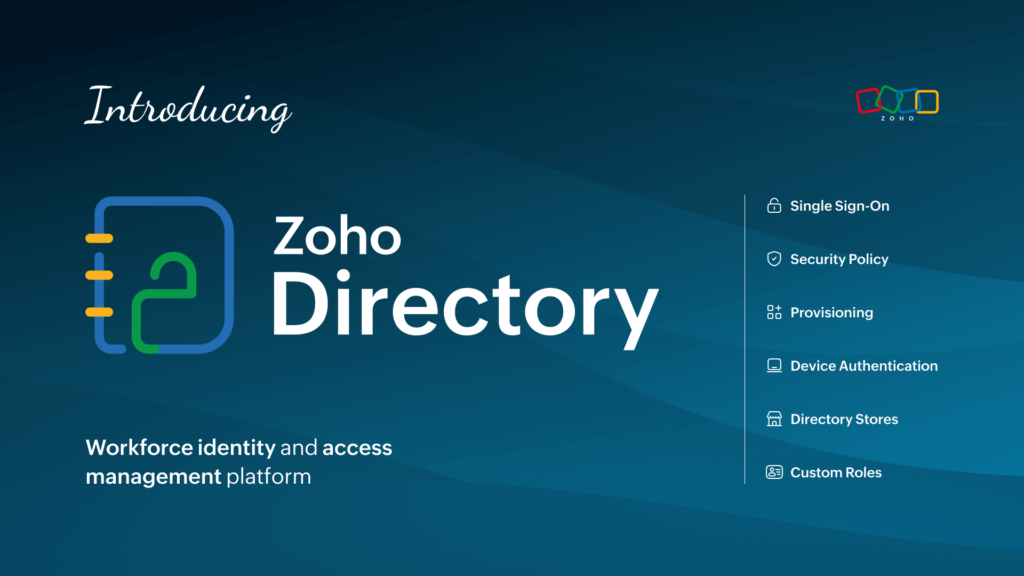 A secure and convenient way to log in to work
Employees use many work apps every day. As your business grows, so will your app. Single sign-on (SSO) makes it easy to sign in to many applications. Saves employees time entering credentials every day and prevents bad password practices.
With Zoho Directory's single sign-on option, you can easily and securely access all your business applications with a single set of credentials. This improves the overall login experience and productivity of your employees. It also reduces the number of password resets handled by the IT team. With our app catalog, you can easily choose from over 350 apps and access them securely.
Extend the power of single sign-on (SSO) to your devices
Organizations use outdated systems to manage laptops and desktops. These systems are very complex to use, and their binding and non-binding process comes with terms that may not be suitable for all organizations. Also, this means employees sign in with different passwords for their devices and apps.
What if we could get rid of using different passwords for devices and apps?
With Zoho Directory Device Authentication, you can easily access your apps and devices using the same set of credentials. It also helps IT administrators easily enroll and disable devices while spending less time resetting passwords.
We believe Zoho Directory's secure SSO login and device authentication will give employees a better login experience.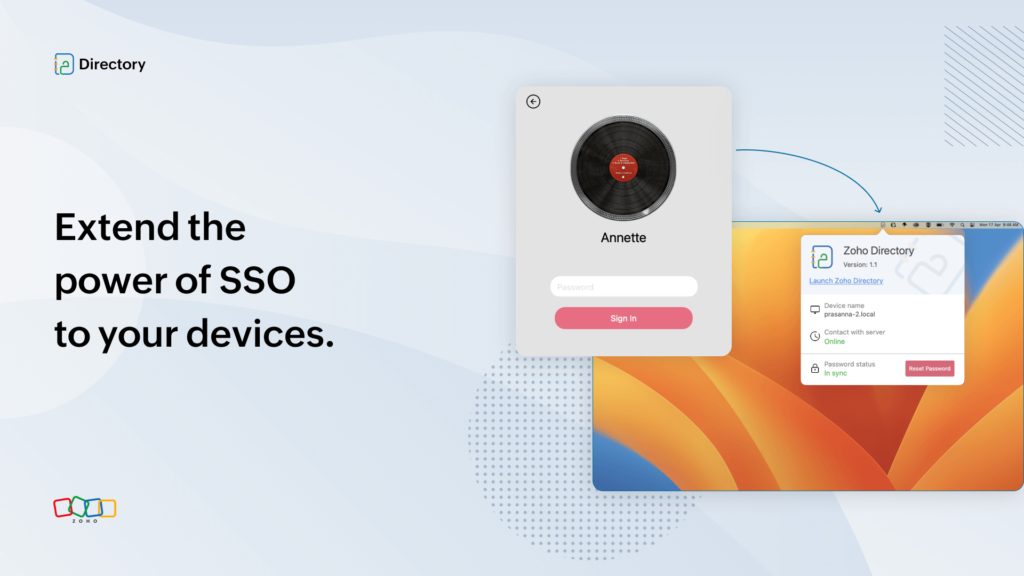 Precise security policies to improve the security of the organization
The average loss due to cybercrime for organizations is around $13 million, making security breaches one of the biggest concerns for businesses of all sizes.
In fact, according to the Thales 2021 Data Threat Report, nearly half (45%) of US businesses experienced a data breach in the past year.
With this reality in mind, Zoho Directory allows you to define detailed security policies to help protect your organization. You can start your security journey by enabling multi-factor authentication with our authenticator app, Zoho OneAuth, and add an extra layer of security to your passwords.
Then you can further configure password policies, manage web sessions, restrict devices based on IP, and more.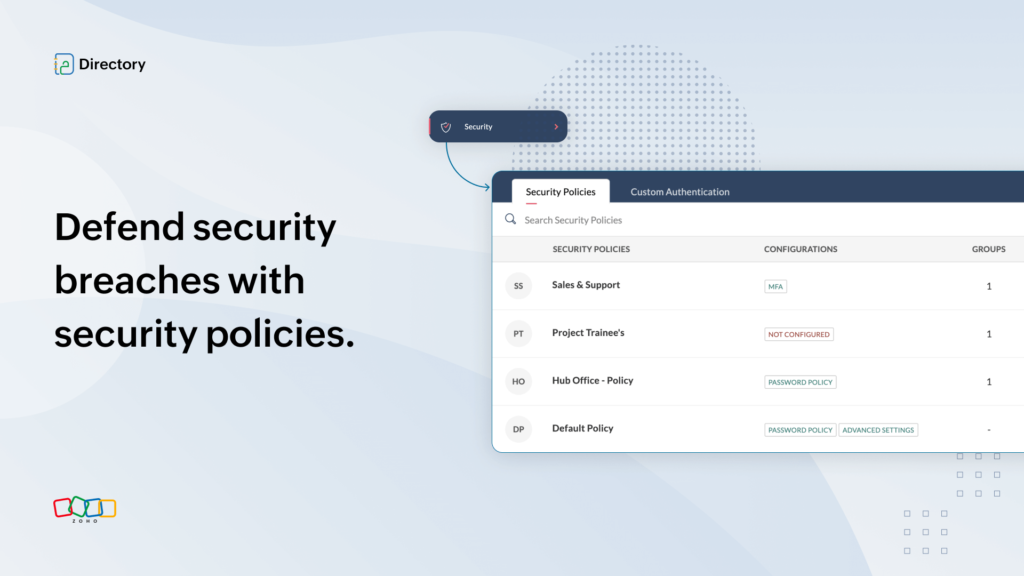 Manage all your app operations from one place
As businesses grow, so does the use of apps. Employees are constantly joining, leaving, or changing teams. Having to provide app access and modification to everyone individually and modify app data separately is impractical for any growing business.
Application provisioning in Zoho Directory allows you to create user profiles and handle CRUD application operations such as create, update and delete from Zoho Directory. In this way, IT administrators spend less time creating and managing individual user profiles across applications.
Utilize external directories with the help of directory stores
Businesses use on-prem and other cloud directories to manage their workforce. These multiple directory sources lead to user information duplication, and is hard to manage. If you're one such business, we've got you covered.
With directory stores, you can sync user data across directories and maintain a single source of truth for all user information.
With these features, Zoho Directory aims to make the jobs of IT admins easier; they can sync all user information and avoid inconsistencies across services.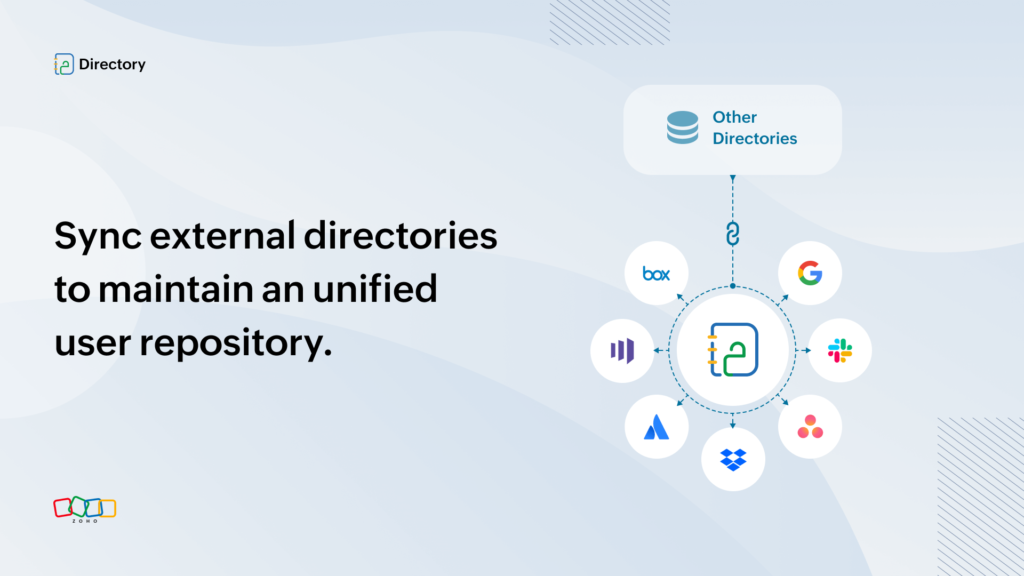 Get a complete view of your workforce identity with reports
With Zoho Directory's reports, keep track of all interactions happening within your organization. This helps you monitor suspicious app and user behavior and act before it's too late.
You can also prepare for audits like SOC 2 and ISO 27001 with Zoho Directory's detailed reports on sign-in activity, MFA, and more.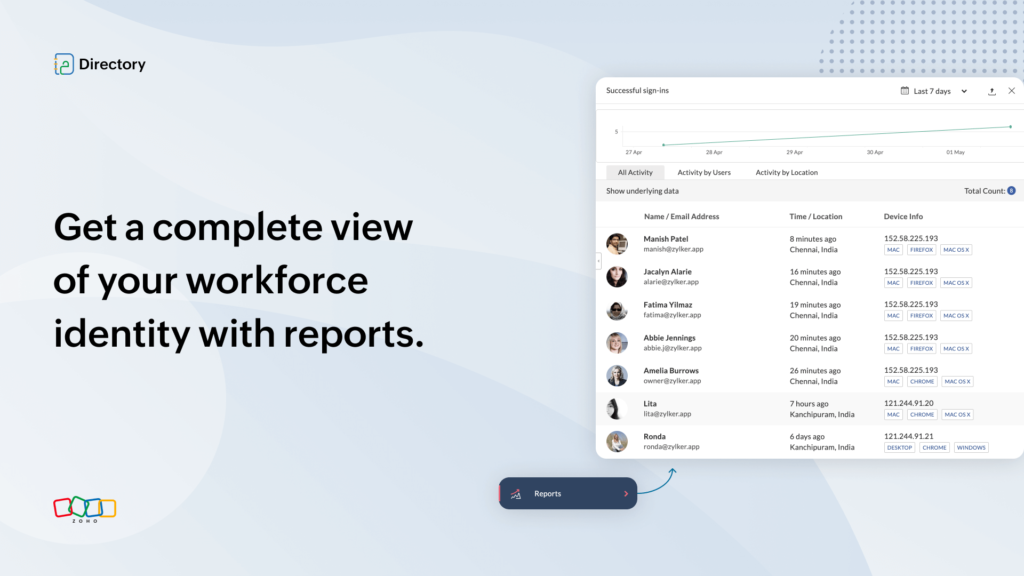 Define admin roles and structure access privileges
As an organization grows, IT teams and admins would be required to manage a lot of users, devices and data. Concentrating all the admin privileges with a single individual poses a major security threat.
Being able to set precise roles for each of your IT admins can help bring structure to the organization.
Now, with the custom roles feature, Zoho Directory can help set explicit roles for your admins such as application admin, organizational admin, and help desk admin. This lets you specify which applications and set of users each admin has control over.
It's time for you to have the Zoho Directory experience!
We have created Zoho Directory for all businesses who look to take charge of their workforce identity on the cloud.
Zoho Directory would be a worthy co-pilot for IT Admins, helping them automate repetitive tasks and manage apps and user identities.
Users would experience better and secure authentication in their work apps and work stations.
Finally, business owners can have a 360-degree view of their workforce identity and protect the organization from security threats with a simple, yet comprehensive, cloud solution.